You have selected the "History behind the idea" section. Here you read about origin of the whole idea of "Faction".

1994
Believe it or not, it all started with a Ren and Stimpy book I read in 1994. At the beginning of one of the stories, Stimpy was in a generic store. But, in the background (Not that the artist WANTED to draw attention to it, just that I noticed), there was a comic book stand. In it was a comic called Captain Jack (Or something like that). The thought that one of my animal (furry) characters could be a space-exploring person just struck me as a nifty idea. I also noticed that the character (Captain Jack) had been drawn in a similar style to Bonkers. I had never drawn my characters in that style before! Most of my characters looked more like Fievel Mouskewitze from "An American Tail". So finally I came up with this drawing (Right) as a general idea for my new character. Why a blue cat? Why not! He's an alien! Little did I know what would develope (Although the idea has stayed VERY much the same)...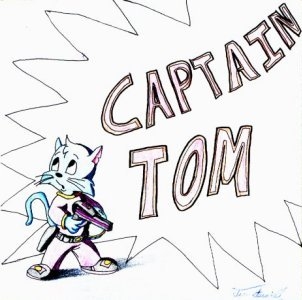 It didn't take long before I made some more drawings concerning Tom. I drew five ideas for Tom on one peace of paper (And as is obviously appearant, I was still using coloring pencils as a medium): The first picture was of Tom holding a sphere. I was trying to think of what kind of weird things he would find on his adventures. In the second drawing, I was just trying to get his side view right (The side portrait of ANY character has always been one of my weaker drawing skills). Then, in the third sketch, I tried to figure on what kind of people he'd come accross. Ironically, I have him being hit by Richard (Who I eventually made Tom's best friend!). I then drew Tom's ship for obvious reasons. If I was ever to make a comic, Tom's ship would FREQUENTLY show up somewhere. To this day, his personal ship remains pretty much the same. The fifth of these was the idea of a female cat for Tom to have to deal with somehow. The girl I portrayed eventually became Commadore Kelly, but at the time, she was still nameless (As was Richard, for that matter).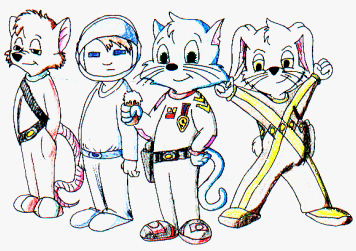 Here we have a picture suggesting more character development. This is Tom in a bar: (From left to right) Richard, Mortimer, Tom, and Mr X. I figured Richard to be a criminal who happened to like Tom and so became Tom's friend. Mortimer is that age old sci-fi idea of robot sentience and "What makes a person a person?". Tom is drinking root beer (For those of you who were worried about Tom's drinking habbits. He doesn't drink alchaholic beverages). And Mr X is showing off his special suit (he made it himself) with the big "X" on it (Hence the name!). About that time, I was planning on gathering ideas for Tom from everyone I knew.
Finally, when I went and visited my grandfather, I got my uncle Don to help me out. When h asked me what kind of help I needed, I noticed that Tom wasn't really a captain! He didn't have anybody under his command much less a crew! All along I had been developing an explorer type character much like Spaceman Spiff from Calvin & Hobbes. So I pulled out my drawings and asked Don to help me with who the crew should be. I looked at the picture of the girl cat and thought of a girl I had a crush on in California around the year 1990 named Kelly Domingez, so I named the girl cat after her.
Now that Tom had a crew and such, I figured I had enough to start a comic. I was wrong. I couldn't write then and I can't write now. Sure, I can come up with ideas, even write a good storyline having great lines spilling over with personality...if I just had the PATIENCE!!! I have had lessons on writing and my ideas sertainly don't hinder the skill, but I just wasn't born for it. Eventually, however, I met a girl named Christa Royal who agreed to write the first issue for Tom.
Late into 1994 was when Christa started writing for "Captain Tom: issue #1". It took me about a month or so into Christa's writing to finally get around to drawing what she was writing. Here we see page three. I was very pleased with the way she wrote the comic, it was exaclty what I had in mind both in plot and personality. To this day, I still wish she could have finished it, but she and her family had to move and over the years we lost contact. But I still have her writings to work from.
After seeing how the comic turned out so far, I was thrilled and anxious to see what could come of it. Although I haven't worked on further pages than page 6, I have worked on other things for Tom. Mostly drawings (No surprise), but I did some writing as well.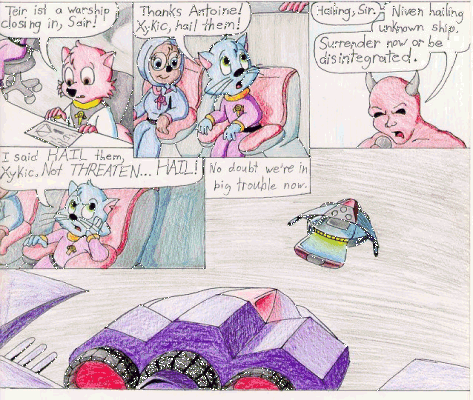 Return to Base

Artwork © 2000 Tim Fewell. All rights reserved. Contact: Tim Fewell
Powered by